| November 28th, 2006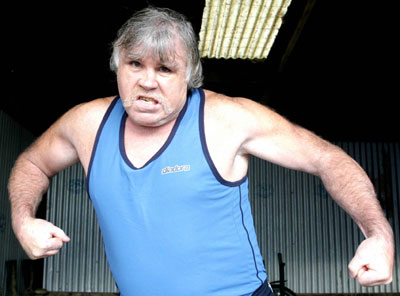 Duuuude, look at this guy.
This man is Joe "The Hulk" Joyce, who, sources tell me, is the king of all travellers.
I'm just going to pause to give credit for a fabulous photograph to my friend and local photographer, David Walsh. Fair play to ya, Dave.
Anyway, back to that king of all travellers thing – apparently, to become king of the travellers you have to be the best fighter. How, you may ask, is that determined? Well, we've all seen Snatch, yeah? That's right: bare-knuckled fighting. The king of all travellers is the guy who beat up anyone else who wanted to be king of all travellers. Our man Joe there is the roughest, toughest, baddest fighter in Ireland.
These fights are, of course, strictly illegal. They have no rules. The rules are: win. I have heard they're pretty brutal. Just imagine discovering that there is bootleg footage of these fights on videocassette and dvd from less than reputable retailers around Ireland . . . I'd say something like that would be just scandalous.
In any case, you wouldn't find such a thing on Amazon.